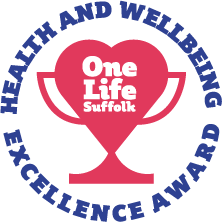 OneLife Suffolk offers a fantastic package to workplaces across the county, supporting them to work towards achieving a Health and Wellbeing Excellence Award.
Workplace Package
It is widely known that being in work is good for people's health and wellbeing, but it's increasingly being recognised that a healthy workforce is beneficial to employers too. Through creating a positive, safe and healthy environment for employees, you can increase morale, improve your employees' work-life balance and, in turn, positively impact your business.
OneLife Suffolk offers a workplace offer that can help your staff live a healthier lifestyle and in turn create a more healthy and productive workforce.
The workplace package offers your business the chance to work towards our health and wellbeing excellence award whilst offering on site services for your employees including 
Adult Weight Management
Stop Smoking 
NHS Health Checks
Health Walks
Making Every Contact Count Training