OneLife Suffolk offers a fantastic packages to support workplaces across the county, supporting them to help their employees to become healthier and fitter.
Workplace Package
It is widely known that being in work is good for people's health and wellbeing, but it's increasingly being recognised that a healthy workforce is beneficial to employers too. Through creating a positive, safe and healthy environment for employees, you can increase morale, improve your employees' work-life balance and, in turn, positively impact your business.
OneLife Suffolk offers a workplace offer that can help your staff live a healthier lifestyle and in turn create a more healthy and productive workforce.
The workplace package offers your business the chance to have on site services for your employees including:
Adult Weight Management
Stop Smoking
NHS Health Checks
Health Walks
Making Every Contact Count Training
OneLife Suffolk works in partnership with Suffolk County Council and their workplace wellbeing initiative to find out more click here 
Building a Resilient County
 Resilience is frequently discussed by employers, but its definition is often unclear. Many employers see resilience as an increasingly important issue, even more so in the context of the diverse pressures of the modern workplace.
A toolkit has been put together by Suffolk County Council and Suffolk Chamber of Commerce, to help employers and individuals define what resilience means for them, and how it can serve as an important indicator of workplace health. The resource has been written by businesspeople, for businesspeople, and can be viewed here:
Building a Resilient County Toolkit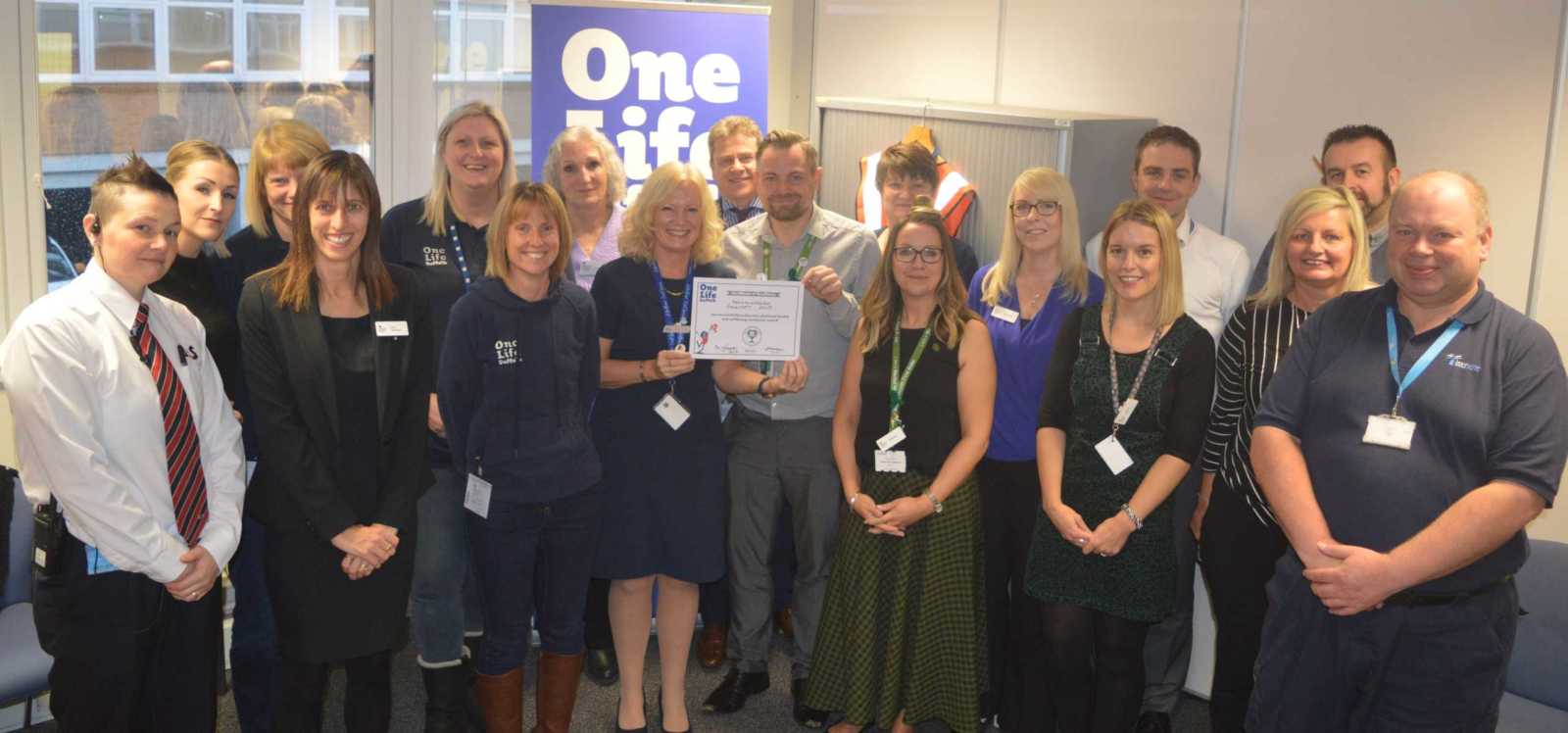 Health and Wellbeing Excellence making a difference at Lowestoft DWP
The Lowestoft DWP have been extremely pro-active in taking on the challenge of working towards the Health and Wellbeing Excellence awards. Lowestoft DWP are the first workplace in Suffolk to receive Platinum status.
The centre started working in partnership with OneLife Suffolk two years ago. OneLife Suffolk are funded by Suffolk County Council to provide Free Support with Adult, Children and Family Weight Management, stop smoking support along with help to get active. Since the partnership begun, the staff and customers have received free NHS Health Checks, several in house adult weight management programmes and received the Making Every Contact Count training. Two members of staff have been trained to deliver health walks and they now regularly refer and signpost their own customers.
The Promotion of improved health and wellbeing to their customers is important to them and they now have a promotional area in their waiting area which inspires people to start thinking about improving the quality of their lives.
"I had a Free NHS Health Check at work, which highlighted raised blood pressure, so I was referred to my Doctor. Following this I joined the weight management group and lost weight which reduced my blood pressure. I now also participate in the walking group, which has promoted both my physical and mental wellbeing. Thank you OneLife Suffolk."   – Paula.
"I had struggled with my weight for years, but it wasn't until my colleagues had great success on the OneLife Suffolk programme at Rushton House that I was encouraged to give it a try myself. It definitely works, I have already lost 4 stone and am still losing. The course is brilliant, and Ann provides so much knowledge and information that I was previously unaware of. The support, encouragement and the feeling of "not wanting to let them down" kept me going, I know for certain I could and would not have come this far without this group". – Richard.
"I work on the Front of House Team, dealing with the general public daily. I have often directed customers to the OneLife Suffolk display we have in the Jobcentre. Following the MECC training I received I can confidently talk to customers about the services OneLife Suffolk offer and the benefits of living a healthier lifestyle." – Kevin
"When I started the walking group, I saw myself as "tail end Charley" struggling to keep up, but now I feel like I'm one of the leaders. I now walk most lunchtimes, I've lost weight and feel a lot healthier. My job role was isolated, so the group has helped me to meet people who I work with in the building and get to know more about them."   – David.