There is no access criteria for health walks! However, due to Covid-19 restrictions you will need to book in advance as there are limited spaces for each walk. Our volunteer health walk leaders are following strict guidelines and you must book here before joining a walk.
Health Walk group walks are exempt from the restrictions on social gatherings, announced on 22 September.
Our priority is to protect the health of our volunteer health walk leaders, supporters and walkers so please follow our advice below before taking part.
If you want to join a group walk:
To join one of our group walks, you must book in advance as spaces are limited. You can book here.
Before joining a walk, we strongly recommend reading Ramblers Restart: Taking part in COVID-safe walks, which has been put together in line with the latest government guidance.
If you're walking alone or with friends and family:
Be prepared: Government guidelines are changing regularly so make sure you know where you can walk before making the trip.
Be safe: Maintain good hygiene and physical distancing. If you begin to show COVID-19 symptoms or have been in contact with anyone who has COVID-19, you must self-isolate.
Be considerate: Be sensitive to rural communities if considering travelling further from home to walk. Make sure to follow the Countryside Code – COVID-19 version (England and Wales) or Scottish Access Code.
On your first walk, you will be asked to fill in a Walker registration form. We also ask for your consent to send you a short questionnaire regarding your general health and how you heard about the service. If you do have any concerns about your health, we do ask that you seek medical advice before undertaking a health walk.
What to wear?
For a short walk, over, easy terrain with OneLife Suffolk you won't need any special clothing or equipment. But to stay comfortable and enjoy yourself we recommend the following:
Wear comfortable clothes and sturdy, comfortable shoes or trainers.
Several thin layers of clothing are better than one thick layer. You can take off layers as you warm up or add them if you get cold.
Take a good jacket unless you're sure it's not going to rain – it's easier than an umbrella.
Wear a hat: it keeps you warm in winter and protects you from the sun in summer.
Wear gloves if it's cold – it's difficult to walk briskly with hands in pockets.
Wear sun cream if you're going to be outdoors for any length of time.
Take a small bottle of water with you.
A small backpack is more comfortable to walk with than an ordinary bag, but be sure to wear it properly with the straps adjusted to fit your body snugly.
Grading
Walks are graded so you can be sure they are suitable for your ability: 1 2 3 4 5 On easy, good, flat surfaces Mostly one level, can be muddy Some moderate slopes, good surfaces More challenging, may include steeper slopes, rough ground or mud in wet weather As grade 4, but may include one or two stiles and can be slightly faster in pace.
Grade 1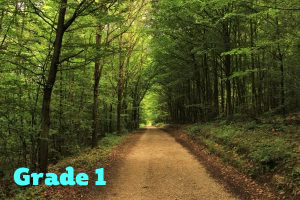 On easy good flat surfaces.
Grade 2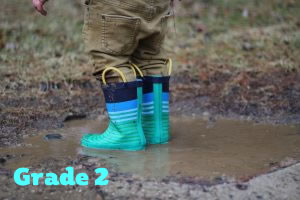 Mostly level can be muddy.
Grade 3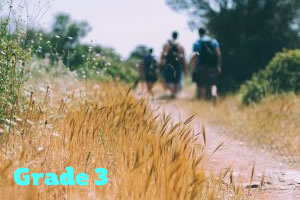 Some moderate slopes, good surfaces.
Grade 4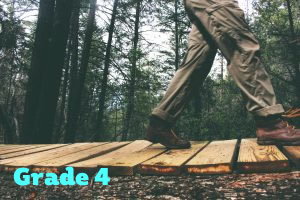 More challenging may include steeper slopes, rough ground or mud in wet weather.
Grade 5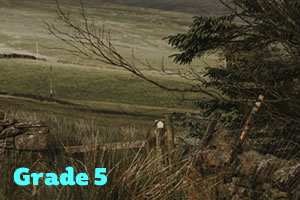 As grade 4 but may include one or two stiles and can be slightly faster in pace.