We want to support more people to move more and lead active, healthy lifestyles. We offer two levels of support:
Get Help
Our 'Get Help' service provides up to 12 months of support, starting with our 12 – week programme. This programme consists of weekly supervised exercise sessions and practical support around key topic areas such as how to exercise safely, overcoming barriers and staying motivated. After your 12 weeks, you will have access to ongoing support to help you maintain and develop a healthier, active lifestyle in the long run.
Get Active
Our 'Get Active' service can support you if you are not active but do not need supervised exercise support. We aim to help you find a local activity that you enjoy, and that will improve both your physical and mental health as well as give you a social and confidence boost. Our Get Help To Get Active Activator team (trained volunteers who are passionate about sport, activity, and movement) will support you by leading free weekly sessions in the sport or activity you choose for over six weeks.
After completing the 12-week programme, you will have access to ongoing maintenance support via our OneLife Club and our closed Facebook group for 12 months.
The benefits of our programme:
Being more physically active:
Improves your general well-being
Helps you to manage stress
Improves your mood
Allows you to maintain a healthy weight
Improves your quality of life
Our programme really works;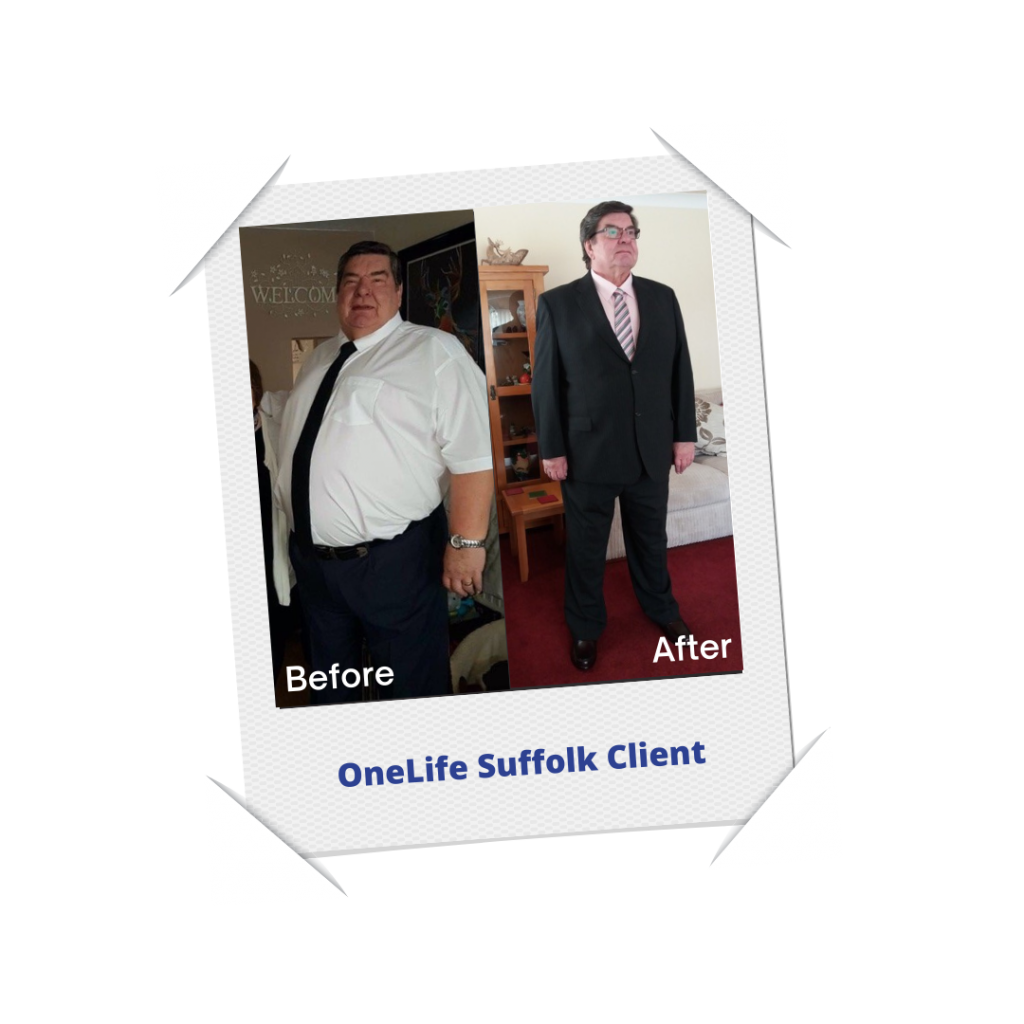 "I discovered things like the importance of everyday functions, such as keeping hydrated, sleeping well and being active, which doesn't necessarily mean heavy exercise. I walk two miles a day without stopping, sometimes twice a day. I have lost 7 stone and am still losing. My well-being has improved dramatically, and it's not just size and mobility. It's how you feel – I feel happier, I feel more able to cope, I feel healthier, and my activity levels have increased."
And it's FREE!
OneLife Suffolk is a partnership between Leeds Beckett University and MoreLife. Our programmes and services are funded by Suffolk County Council, allowing us to offer them to local Suffolk residents for free.
Now more than ever, it is time to prioritise your health and your happiness. Start your physical activity journey with OneLife Suffolk today. Contact our client services team on 01473 718193 or sign up using our online form.
See what other clients say about our programme here
Not sure you qualify?
If you are not eligible for our programme you may find some of these tips useful:
Find activities that you enjoy.
By finding something you enjoy doing, you are more likely to keep doing it.
Ask a friend or relative to join/take part with you.
Not all days are the same; make the most of the good ones.
Listen to your body; do what you can.
When you are having a good day, make the most of it. On the other days, just try to move as much as you can.
Start small
Little and often is key.
It isn't realistic to go from 0-100 straight away. You are aiming for small steps in the right direction.
Just move
Whether this is a run or simply doing some seated exercises for 5 minutes, the aim is just to move more than you currently are.
Download our top tips and activity diary HERE.