Welcome to the OneLife Suffolk Club!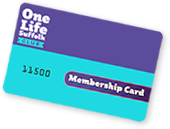 The OneLife Suffolk Club is here to support you during and beyond your journey with OneLife. Club support and maintenance includes;
 
Monthly newsletter offering top tips and support
Access to video's and podcast's support and advice
Drop in sessions so you can speak to us direct
Quarterly community events
Registered members log in below
The OneLife Suffolk Club support provided in association and supported by Leeds Beckett University and MoreLife
Leeds Beckett University
With over 28,000 students and 2,900 staff, Leeds Beckett is one of the largest universities in the country. Leeds Beckett acts as the lead academic and research partner for OneLife Suffolk and provides research opportunities and clinical skills training.
Leeds Beckett University, formerly known as Leeds Metropolitan University and before that as Leeds Polytechnic, is a public university in Leeds, West Yorkshire, England. It has campuses in the city centre and Headingley.
MoreLife
MoreLife is a leading provider of integrated healthy lifestyles services including effective weight management, physical activity, smoking cessation and health improvement programmes and has helped thousands of people to successfully lose weight. The company was founded by Professor Paul Gately, Professor of Exercise and Obesity at Leeds Beckett University, in 1999. Programmes include a combination of behaviour change, physical activity, nutrition education and lifestyle change with a strong focus on individual needs.
Address: OneLife Suffolk, Inspire Suffolk, Lindbergh Road, Ipswich, IP3 9QX
Contact Number: 01473 718193    Email: info@onelifesuffolk.co.uk
Opening Hours: Monday till Friday 9:00am - 5:00pm