NHS Diabetes Prevention Programme
Over 45,000 people are already diagnosed with diabetes in Suffolk and North Essex an estimated 7,500 people are still undiagnosed.
The NHS Diabetes Prevention Programme (NDPP) is available across East and West Suffolk as well as North East Essex.
One Life Suffolk are working closely with G.P. Practices to identify eligible Patients and invite them on to the programme.
It is a 9 Month Programme and aims to help people take control of their diet, weight and the amount of exercise they do.
If you have been told you are at risk of developing Type 2 Diabetes and haven't already been referred, ask your G.P, Nurse or NHS Health Check professional to refer you to your local Healthier-You programme.
You can also refer yourself on-line; info@preventing-diabetes.co.uk or by phoning ICS Health 0333 577 3010
(To self-refer you will need your NHS number, your latest HbA1c reading and the date it was carried out.)
For more information, please visit https://preventing-diabetes.co.uk/
Here is Jeff to tell you about his experience of the NHS Diabetes Prevention Programme.
What is Diabetes?
You may have heard of Type 1 and Type 2 diabetes, but whats the difference? Watch this short video produced by Diabetes UK to understand more about the conditions and some of the most common symptoms
Could I be at risk?
Type 1 Diabetes is often diagnosed at a very young age but Type 2 Diabetes usually  develops over time and is often associated with an unhealthy lifestyle e.g. unhealthy eating, excess weight, smoking, being physically inactive. There are other risk factors associated with Type 2 Diabetes which we are unable to do anything about such as our family history and ethnicity. See below more about those at risk of Type 2 Diabetes…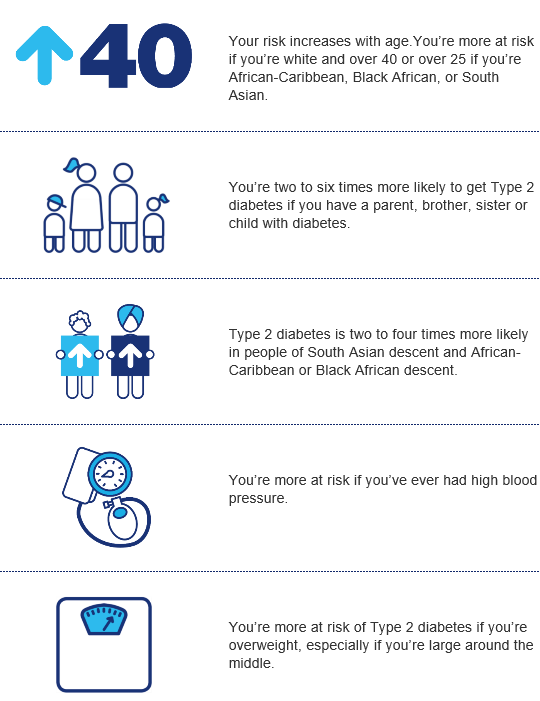 Can Type 2 diabetes be prevented?
Up to 58% of Type 2 diabetes can be delayed or prevented through leading a healthy lifestyle. Here are some lifestyle changes you could make which would reduce your risk of Type 2 Diabetes:
If you are overweight, reducing your weight can lower your risk. If you have a Body Mass Index of 30 or more book onto one of our FREE weight management programmes, click HERE to find a programme local to you.
Stop Smoking. Our free stop smoking groups are offered across Suffolk, find a group local to you HERE
Increasing your physical activity levels is one of the best things you can do to reduce your risk of physical activity. Why not join one of our FREE health walks. Click HERE to find a walk in your local area.
The NHS health check performed by OneLife Suffolk identifies and screens people at risk of developing type 2 diabetes by offering a simple blood test called an HbA1c.
Remember to check your current risk of Type 2 Diabetes by clicking HERE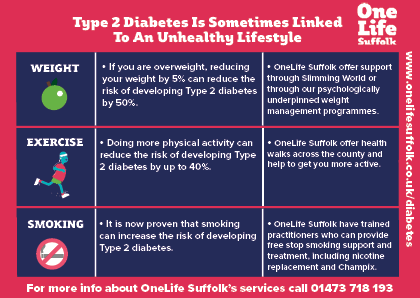 I have been diagnosed with diabetes, how can I manage my condition?
Diabetes UK have put together 15 key tips to help people with a diagnosis to manage their condition, check these out as well as information on local support services below: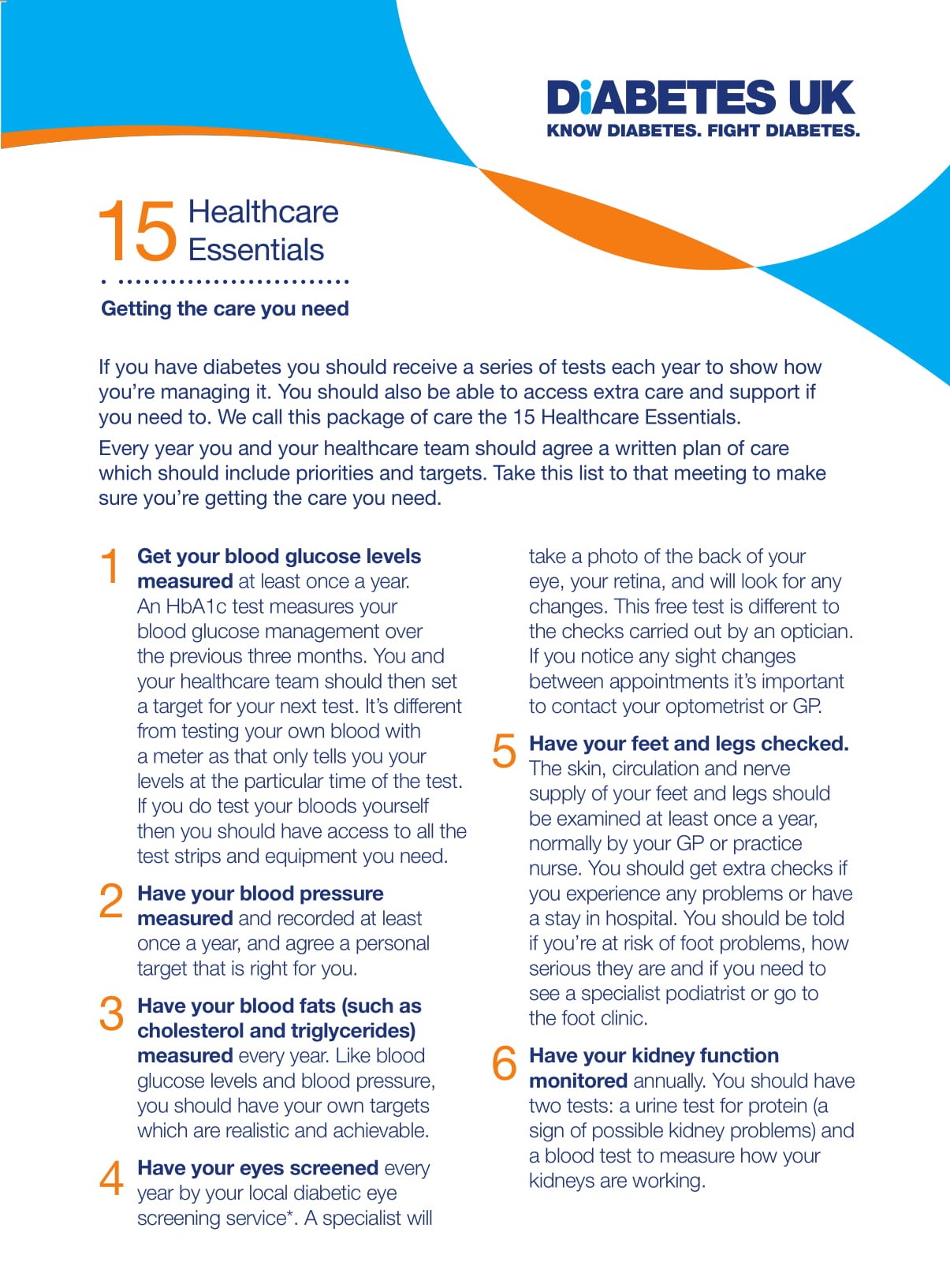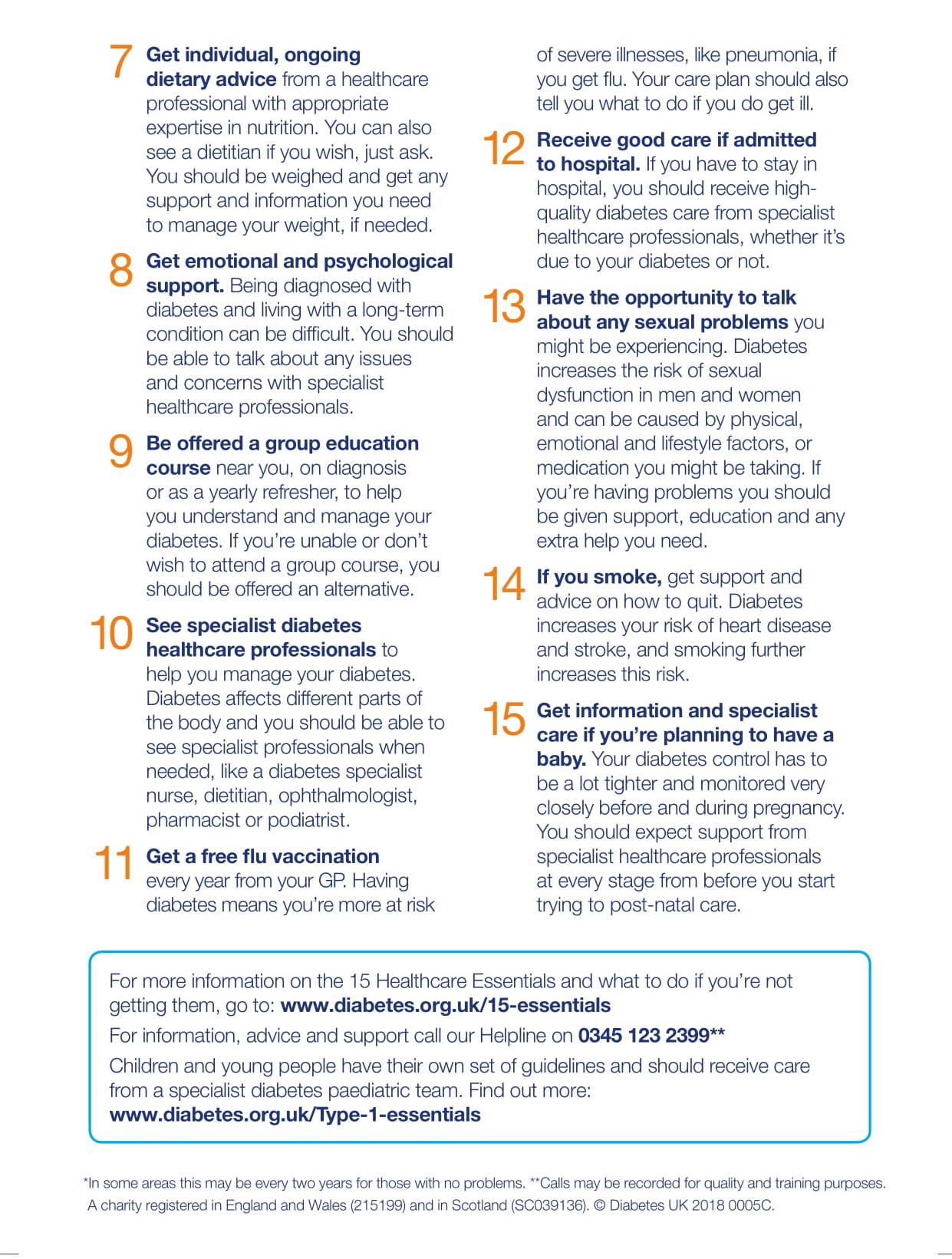 Who else or where else can I get support for my diabetes?
Click HERE to visit Diabetes UK website which provides lots of useful information about diabetes.
Click HERE to discover DAFNE or DESMOND courses in your area which could help you to manage your Type 1 or Type 2 Diabetes.
More information about Type 1 and Type 2 Diabetes is provided by the NHS HERE
Click HERE to read Barry and Jeanette's story of how they have managed Type 2 Diabetes through OneLife Suffolk's Get Help To Get Active programme.
Address: OneLife Suffolk, Inspire Suffolk, Lindbergh Road, Ipswich, IP3 9QX
Contact Number: 01473 718193    Email: info@onelifesuffolk.co.uk
Opening Hours: Monday till Friday 9:00am - 5:00pm