MoreLife crowned 'Primary Care Provider of the Year' at the prestigious Health Service Journal (HSJ) Awards
MoreLife is delighted to announce that they have been named as winner of the Primary Care Network, GP and Community Provider of the Year at this year's prestigious HSJ Awards, recognising our outstanding contribution to healthcare.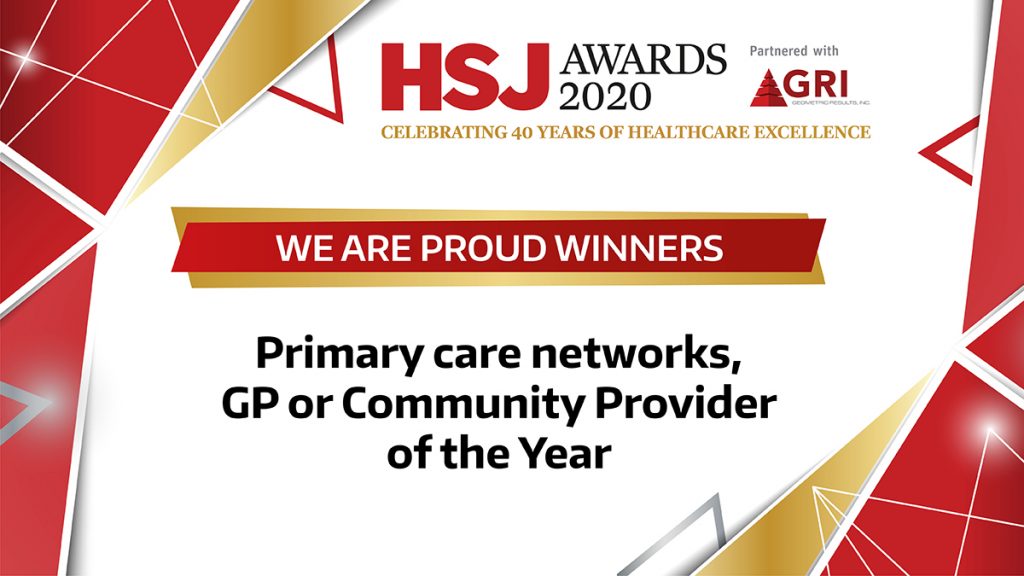 Over 4500 health and social care staff "tuned in" to the first virtual HSJ Awards evening on 17th March 2021 to celebrate the dedication, innovation, and teamwork within the health care community. Hosted by comedian, actor and charity campaigner, Sir Lenny Henry, alongside award-winning journalist and broadcaster, Victoria Derbyshire, the awards ceremony celebrated the diligent and selfless work of our healthcare heroes over the past 12 months – a year which has been one of the most demanding on record for the NHS.
Alongside hosts, inspiring words came from Mayor of London Sadiq Khan, Chief Medical Officer Chris Whitty and former Prime Minister Gordon Brown as the awards celebrated the very best in healthcare.
The MoreLife entry focused on how the delivery teams within MoreLife Essex and OneLife Suffolk had helped to create incredible outcomes through the adult weight management and stop smoking programmes for clients in East Anglia, subsequently helping reduce pressures on the NHS.
Paul Gately, CEO at MoreLife said, "We are absolutely delighted to have been named as the winners in the Primary Care Networks, GP or Primary Care Provider of the Year. It means a great deal to all our staff, for their continued hard work to be recognised in this way, especially during such an extraordinary year due to the pandemic and we're confident that the positive impact of this Award will help to create a long-lasting legacy.
"This Award will provide a tremendous boost to both our staff and our clients across MoreLife and OneLife Suffolk and I am sure it will bolster our efforts to develop and continually improve our services."
Set up in partnership with Leeds Beckett University, MoreLife uses research and insight to develop evidence driven and community led programmes, commissioned by local councils and Clinical Commissioning Groups (CCGs).
OneLife Suffolk partnership with Ipswich Hospital
In Suffolk, MoreLife's unique partnership with Ipswich Hospital, West Suffolk Hospital and James Paget University Hospital Trust has supported over 195 clients to quit smoking since the collaboration was launched. Angela Leach, Smoking Cessation Midwife at Ipswich Hospital delivered a powerful interview on how the programme was making a real difference.
MoreLife GP Partnership leads to better outcomes for patients living with diabetes
In Essex, MoreLife's evidence-driven adult weight management programme continues to support those living with obesity to take better care of their health, with outcomes showing 87% of individuals who joined the programme have achieved a 3% weight loss against a target of 60%. Dr Mahmud, GP partner at Churchview Surgery and Jones Family practice praised the partnership in a short interview.
With over 17,300 engaged in MoreLife programmes in 2019/20, the entry highlighted how MoreLife had swiftly adapted to the pandemic with virtual delivery, digital resources and making over 13,000 wellbeing calls to those most in need of their services.
HSJ editor, Alistair McLellan, comments "Following what was undoubtedly the most challenging year for the NHS, it was impressive to see the commitment to excellence shown by the finalists.
The high quality of entrants in 2020 posed a real challenge to our expert judging panel, who were impressed by the breadth of applications demonstrating real evidence of improvements to patient care.
"We know that Morelife is not alone in fostering a culture of excellence and hope that this award win will be a source of inspiration for like-minded teams across the country. We are delighted that the HSJ Awards continue to be considered the gold standard awards programme in healthcare. Congratulations again to MoreLife and welcome to the HSJ Awards Alumni!"
To find out more about MoreLife programmes in your area, see below links: