Adult Weight Management – We're Open!
Due to COVID-19 the way in which some of our services are running has changed we now offer online Zoom groups, access to our brand new online weight loss programme and 1-2-1 telephone support. We are hoping to resume face to face weight loss groups shortly please get in touch to find out more.
OneLife Suffolk provides 12 months of FREE adult weight management support. We provide you with the tools, advice and guidance you need to improve your lifestyle, achieve your weight loss goals and more importantly help you to sustain these changes for good.
You will start by joining one of our 12-week group programmes which gives you the intensive support to start your weight loss journey. Our programmes are psychologically informed and each session lasts for one and a half hours with a 30-minute drop-in before or after. Our practitioners don't tell people what to do; instead, you will be guided and supported to understand how thoughts, emotions and feelings influence decisions.
Once you have completed your 12-week programme, you will be offered ongoing monthly maintenance sessions and membership to our OneLife Suffolk Club. These sessions provide you with an opportunity to talk to us about any challenges you may be facing. We are then able to provide you with additional support. You can also continue to have your weight checked by your practitioner and share tips and advice with your fellow group members, as well as gain tips from them too!
As an alternative to our own successful programme we have a partnership agreement with Slimming World and you may be eligible to receive vouchers to join one of their groups. Please contact us for more details on 01473 718193
Find a Weight Management group local to you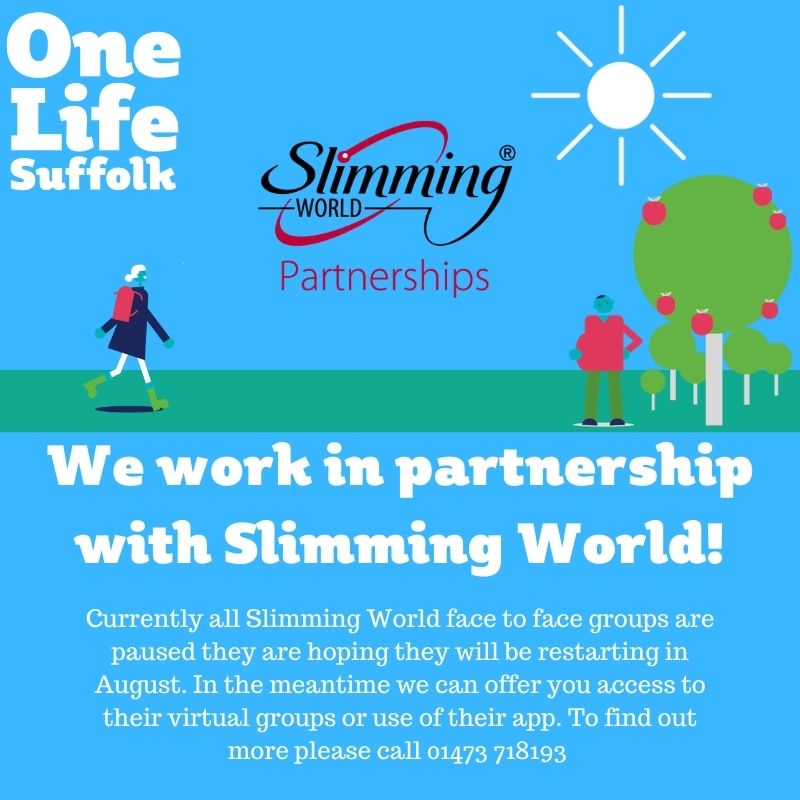 Sign Up Now
If you would like to join our next 12 week programme please call us on 01473 718193 or 
By reducing your weight by
you could significantly decrease your risk of conditions such as Type 2 Diabetes.
Your local Healthier You: NHS Diabetes Prevention Programme
A record number of people in the UK are living with Type 2 diabetes. This figure has more than doubled since 1996. Sadly many people will experience potentially preventable complications because of diabetes, simply because they don't know enough about their condition and how to manage it.
The good news is if you're at risk of Type 2 diabetes there are lots of small changes you can make to prevent diabetes from developing in the first place. The first thing to do is find out if you are at risk.
Find out if you're one of over 5 million people in the UK who are at high risk of developing Type 2 diabetes
To find out more about how to prevent Diabetes click here
Address: OneLife Suffolk, Inspire Suffolk, Lindbergh Road, Ipswich, IP3 9QX
Contact Number: 01473 718193    Email: info@onelifesuffolk.co.uk
Opening Hours: Monday till Friday 9:00am - 5:00pm