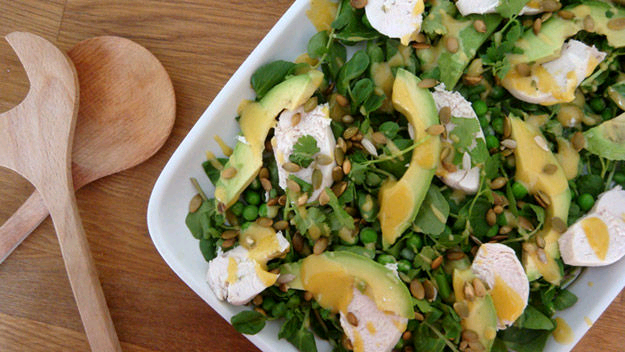 Honey Mustard Chicken salad 
Ingredients 
For the dressing
2 tsp clear honey
2 tsp English mustard – made using 2 tsp ground mustard flour mixed with 2 tsp of water
3 tbsp olive oil
1 tsp lemon juice
Method
Begin by preparing the dressing. Combine the honey and the mustard in a bowl and whisk together. Add the olive oil, bit by bit, whisking continuously to create an emulsion. Add the lemon juice and season well. Taste the dressing and add a little extra lemon juice or seasoning if you think it needs it. Remove the peas from the freezer, place in a bowl and leave to defrost while you prepare the remaining ingredients.
Trim the stalks from the coriander and place in a large saucepan of water. Add a large pinch of salt and the juice from the lemon, cover and bring to the boil. Once the water is boiling, add the chicken breasts to the water, bring back to the boil, then cover and remove from the heat. Leave the pan to sit for half an hour before draining the chicken breasts and patting dry. This method allows the chicken to poach slowly, retaining the tenderness of the meat and adding a piquant flavour from the lemon and coriander. The chicken breasts will still be very hot when you remove them from the water so leave them to rest for 10 minutes before slicing.
Meanwhile, place the pumpkin seeds in a heavy-bottomed frying pan and toast over a medium flame until toasted and fragrant, shaking the pan every now and then to ensure they don't catch. Remove from the heat and allow to cool down. Trim the thick stalks from the watercress and separate the leaves, scatter the watercress over a large serving plate. Slice the avocado in half from tip to tail, twist gently with your hands, pull the halves apart and remove the stone. Using a spoon, scoop out the avocado flesh in one piece and then cut lengthways into fine slices. Tear the remaining coriander and scatter over the bed of watercress along with the garden peas and sliced avocado. Transfer the poached chicken to a chopping board and slice against the grain into 1cm widths. Layer the chicken on the salad, scatter over the pumpkin seeds and drizzle over the honey mustard dressing.