Coronavirus Update
Continuation of Child Weight Management Services Provided by OneLife Suffolk during the COVID -19 Pandemic.
We are pleased to advise you of the changes to the way our child weight management services are delivered in response to the government advice to help limit the transmission of COVID -19. 
OneLife Suffolk will continue to deliver child weight management and other lifestyle services. We have made provisions for all our staff to work from home, which means we have stopped all face-to-face delivery and are offering telephone and digital support instead. This includes virtual platforms such as Zoom to interact with families, as well as additional content available through Facebook, YouTube and the OneLife Suffolk website.  Please be advised therefore that you can still sign up or refer into our services.
Please call us on 01473 718193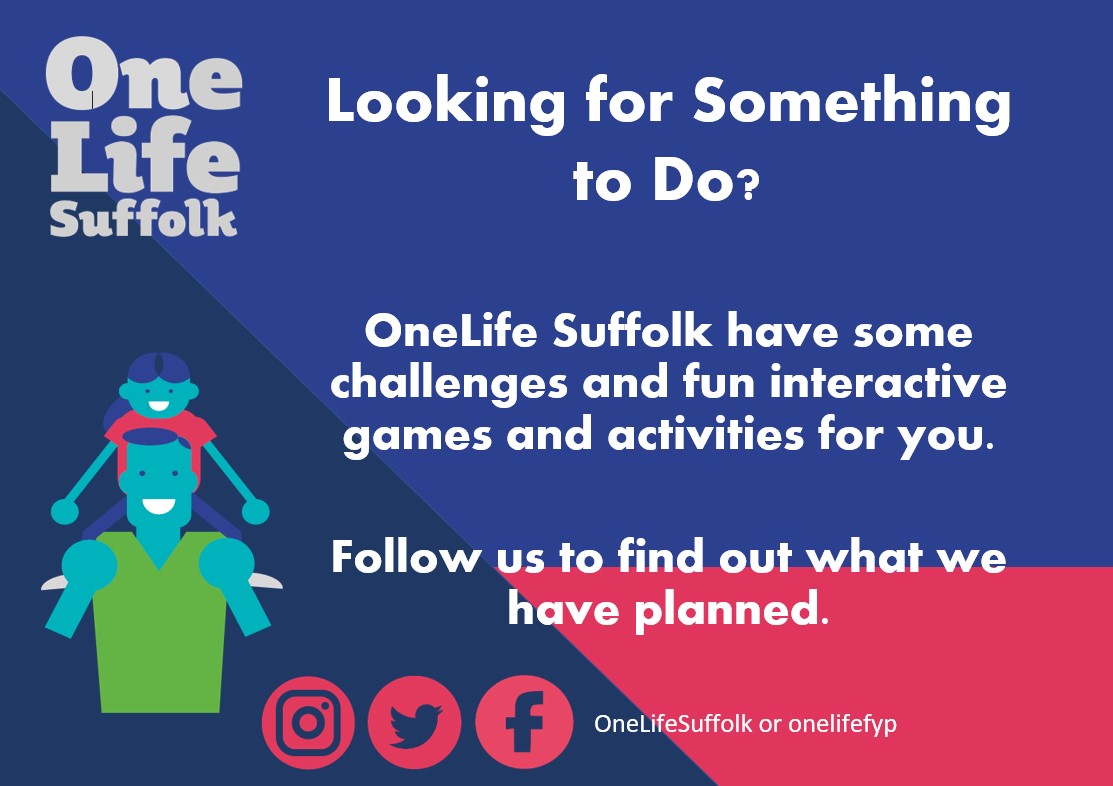 Watch our Free Family & Young People Webinars
New exciting webinars for families to join in together and learn about some key healthy lifestyle topics. These 30 minute standalone webinars will be accessible below and are free to take part in.
The webinars cover 5 topics on a rolling cycle:
Physical activity
Sugary drinks
Food labels
Eatwell Guide
Wellbeing and sleep
To take watch these webinars, just click the link below. The webinars will be presented by one of our highly trained practitioners using a slide deck to cover the topic. 
Families and Young People
OneLife Suffolk delivers a highly successful, free family & young people's healthy lifestyle service. The service is aimed at families, children and teens who struggle with their weight and who want to become fitter and healthier. All the programmes provided by our children's team are delivered by specifically trained practitioners who offer a combination of interactive sessions, physical activity and games along with education, making reaching and maintaining a healthy weight fun. Our programmes are designed to benefit the whole family and are tailored to specific age groups, supporting young people between the age of 4 – 18 years old.
Offering a combination of 10-week Family Programmes and In School Programmes, we take an approach that focuses more on the importance of healthy lifestyles, instead of encouraging weight loss, where there are no unrealistic expectations.
Find a family programme local to you
Address: OneLife Suffolk, Inspire Suffolk, Lindbergh Road, Ipswich, IP3 9QX
Contact Number: 01473 718193 Email: info@onelifesuffolk.co.uk
Opening Hours: Monday till Friday 9:00am - 5:00pm