Dementia
CAN YOU HELP US INCREASE THE NUMBER OF DEMENTIA FRIENDS THERE ARE IN SUFFOLK BY 5%
(That's an extra 850 people!)
Click HERE to become a Dementia Friend today!!
Throughout May 2018, OneLife Suffolk will be encouraging people to take a maximum of 20 minutes out of their day to become a Dementia Friend.
There are an estimated 850,000 people currently living with dementia in the UK which costs around £26 billion to the NHS each year. Becoming a Dementia Friend does not require you to take lots of time out of your day, it will simply help you to understand the condition, change our perception and consider simple things which you or your organisation could do to improve the lives of those living with Dementia.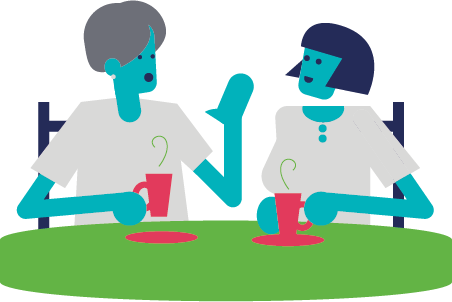 Click HERE to become a Dementia Friend today!!
(It takes less than 20 minutes and involves six simple steps which includes watching a short film)
If you wish to enter your workplace competition to encourage your staff to become dementia friends and be in with the chance to win a healthy hamper for your workplace then please contact laura.beale@onelifesuffolk.co.uk
What is Dementia?
Watch the short video created by Alzheimer's Society to understand more about Dementia
Can I prevent Dementia?
We cannot say for sure that dementia can be prevented, but we do know that there are things which we can do to decrease our risk…
Increase physical activity
We are all recommended to do 30 minutes of activity, five times a week. Why not join a free health walk with OneLife Suffolk to help you achieve this.
Stop Smoking
Quitting smoking protects our health in many ways, e.g. reducing the risk of many cancers and lung diseases like emphysema. You are four times more likely to quit and stay quit with OneLife Suffolk's free stop smoking support.
Eat a balanced diet and manage a healthy weight
Include plenty of fruit, vegetables and oily fish and reduce processed foods or those high in saturated fat such as cheese and red meat. If you are struggling with your weight and have a BMI of 30 or more, why not join a free OneLife Suffolk weight management programme.
Have your NHS Health Check
If you are aged 40- 74 years old, have not had an NHS health check in the last five years and do not have an existng condition such as heart disease or diabetes, book your NHS Health Check with OneLife Suffolk. There are clinics running all over the county; just get in touch to find out more.
Reduce alcohol intake
Try to have no more than 14 units of alcohol per week. It's best to spread your alcohol intake over three or more days and have several alcohol-free days per week. This is about 4/5 glasses of wine or seven pints of beer.
Complete a daily brain workout
Regular reading, crosswords, word searches or puzzles help us keep our minds active. Learning something new such as a new language or instrument is a great way to keep the brain active.
Where else can I find information and support?
Discover where you can gain local advice and support- http://www.dementia-together.com/
Access the online Dementia Friends training and find out how you could volunteer – https://www.dementiafriends.org.uk/
Discover groups and care available for someone living with dementia or their carers- https://infolink.suffolk.gov.uk/kb5/suffolk/infolink/home.page
Click HERE to discover any dementia events which may happening in your local area
For further information on dementia- https://www.alzheimers.org.uk/
Are you linked to an organisation which could join the local Dementia Action Alliance? Click HERE for further details
Address: OneLife Suffolk, Inspire Suffolk, Lindbergh Road, Ipswich, IP3 9QX
Contact Number: 01473 718193    Email: info@onelifesuffolk.co.uk
Opening Hours: Monday till Friday 9:00am - 5:00pm