Families and young people resources & activities
These resources are designed to help you and your family live a healthier lifestyle, Please also see digital copies of all materials you may have been given on one of our clubs:
If your child is a healthy weight, there's lots you can do as a parent to help them stay a healthy size as they grow.
Research shows children who stay a healthy weight tend to be fitter, healthier, better able to learn, and more self-confident.
They're also much less likely to have health problems in later life.
Children whose parents encourage them to be active and eat well are more likely to stay a healthy weight and grow up healthy. Learn more here
---
Club resources
---
Community Club
Fussy Eating for Club Members
No focus on food itself
Reset family rules table, no screen time at the table even if parent breaks them too so all fair, getting to the table on time etc
Leave it there don't talk about it if they don't eat it that's fine.
Leave it there in a bowl throughout the day, can try it if they want but if not, not a problem.
See if they try anything and then continue with this technique
Then increase other food groups in the same way.
Even if they tried it don't make a fuss of them trying it
The best way for your child to learn to eat and enjoy new foods is to copy you. Try to eat with them as often as you can.
Veg – maybe add veg to things like lasagne/chilli's
Although smoothies are high in sugar, if it's the only way to get vitamins and minerals in from fruit then that's okay
If won't eat any other food, then making sure the portions are correct in the food groups they are eating and not having too much of it.
See if they choices they are making are the best ones – so baked instead of fried foods, breadsticks instead of crisps etc. little swaps with the same texture
Sleep Diary
You can download the full Sleep diary here.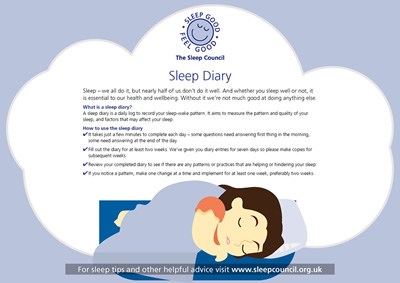 ---
Screen Time
Recommendation is an average of 2 hours per day.
See the internetmatters.org screen time age guides to help children get the best out of their screen time and adopt a healthy digital diet.
---
Eat Well for Less
See the 20 tips to eat well for less website.
Write a shopping list and plan meals
Do not waste anything – eat left overs for lunch,
Buy frozen (fruit and veg, fish)
Try cheaper brands – cover the label or don't tell the children if fussy
Cook with pulses (beans, lentils and peas) – Cheap and high in nutrients – this could bulk up a meal not be the main ingredient eg. Chorizo and chickpea stew
Freeze bread
Buy cheaper cuts of meat (chicken leg, instead of breast; braising steak, shin or shoulder)
Look up cheap recipes
Smaller portions
Cut out takeaways, and luxuries
Beware of BOGOF (Buy One Get One Free)
Online shopping
Happy hour (reduced offers)
Do a stock shop – mega packs much cheaper /100g (can save you up to 50%!)
Ask yourself – Do you really need it?
Shop around – 1 stores does not have all the best bargains
Take a calculator to work out prices per 100g (Premium Tea can be 20x more expensive than cheap ones)
Sometimes better-quality food
---
Change4life
Change4life
Life and Disney have teamed up again to bring you new Shake Up games inspired by Disney and Pixar's Toy Story 4 and Incredibles 2, and Disney's The Lion King and Frozen. These 10-minute bursts of fun will really get your kids moving and count towards the 60 active minutes they need every day!