Back to School, Back to Health
You're thinking about getting their uniform washed and ready, buying new shoes and getting the backpack out of the cupboard, now after months of lockdown, get your child match fit and school-ready!
OneLife Suffolk and Public Health Suffolk have launched a campaign focused on getting children and families ready for the imminent return to school. Back to School, Back to Health looks at improving the health and wellbeing of local families and children after a long pandemic lockdown.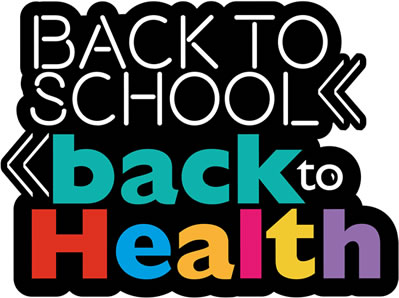 ---
Week 1

Write a sleep diary. The diary will help to pinpoint your kid's sleeping habits.
We have put together a fun sleep diary booklet, for you to complete throughout the week to help your family get a better night's sleep!
Download the sleep diary booklet here. Sleep diary
We also provide help and support on our website to help you all get a good nights sleep.
---
Week 2

Give some time each day to help someone else.
Acts of giving can help to improve the social development of a child and a young person. It can help you to connect with others, which can make you happier and healthier by increasing your self-esteem. It also inspires other people to do the same and give back. Research shows that giving is good for your health; it helps to lower blood pressure and reduce stress.
Things that you could do to show acts of giving are:
– Say thank you
– Make one phone call per day to someone who lives alone
– Volunteer your time in your local community
---
Week 3

Complete a nature walk or play nature bingo.
Are you and your children getting the recommended 1 hour of physical activity a day? To boost your motivation, why not try one of these fun outdoor nature spotting activities on the Suffolk wildlife trust website, to help get you inspired while you are all out walking!
---
Week 4

Try one new thing from each food group.
A healthy diet is a balanced diet! Why not try something new from each of the food groups that you haven't tried before? Check out the NHS eat well guide for ideas on fresh foods that you could taste from each of the different groups. There are also some great ideas on new recipes from BAME community groups that you could try. These can all be found on our OneLife Suffolk healthy eating webpage!
Our family's and young people's service can also support you with healthy eating. You can find out more by visiting the Families and Young People section.
---
Week 5

Why don't you and your family write a letter to someone you don't see very often.
You could write to a friend or family member who you don't see very often, or write a letter to someone you know who lives far away and post it to them!
Writing letters is a great way to connect with other people. It will give them something personal to keep and look back on in the future.
---
Week 6

Try to eat five portions of fruit/veg for at least three days.
Are you eating your five fruits and vegetables a day?
The change4life website can give you some great tips on how you can incorporate your five a day in your recipes, and why healthy eating is so important!
Our Families and young peoples service can help your family to have a healthier diet!
---
Week 7

---
Week 8

Complete two extra 30-minute walks this week.
Just doing this amount of extra walking can benefit all of your family's health. By helping to improve your mental health, sleep better, and strengthen your muscles!
You could all go for a walk around your local area; you might discover a hidden park or area of countryside that you didn't know existed in your neighbourhood! Or you could all go out for a nice walk in the evening and watch the gorgeous sun setting!
The National Trust website shows some beautiful areas of Suffolk countryside, where you could go for a walk!
---
Week 9

Ask the kids to draw a picture to give to someone.
This simple small gesture can help put a smile on someone's face!
Why not get involved in the #suffolksaysthanks campaign, where you will have the chance to get creative and say thanks to others, by expressing how grateful you are for everything that they do!
---
Week 10

Draw a family tree, ask questions about your family history.
A family tree is a great way to help you connect with your family. It can help you learn more about your family history. It can also help you to discover more about how your family members are connected and where they come from.
You can create your family tree by downloading our family tree template!
---